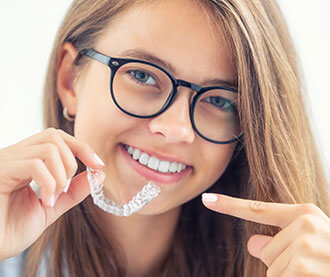 Straighten up your smile with discreet clear aligner treatment
At Gateway Plaza Dental & Implant Centre in Geelong, patients can expect their dental plan to be as unique as they are. After careful consultation and analysis, Dr Al Obedy will determine the best treatments to help you to achieve the result you want. If one of your concerns is tooth overcrowding or a misaligned bite, then he may recommend the latest orthodontic treatment.
Considering Invisalign treatment? Call Gateway Plaza Dental & Implant Centre today.
Why choose Invisalign clear aligners?
Many people are looking to achieve a straighter smile but don't want to undergo traditional orthodontic work using fixed metal braces. Invisalign is the world leader in clear aligner technology and provides effective treatments with predictable and long-lasting outcomes.
Suitable for both teens and adults alike, Invisalign aligners contain no visible brackets and wiring so they sit comfortably in the mouth. Their discreet nature also means that people typically feel relaxed across a wide variety of social situations when wearing them. Moreover, because Invisalign aligners are unlikely to cause speech impediments, they offer a solid solution to those who need or want to speak clearly in their professional or daily lives.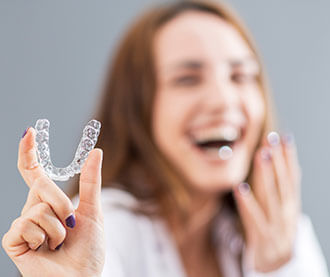 How does Invisalign work?
Invisalign clear aligner treatment utilises a series of custom-made plastic aligners – otherwise known as trays. The number of trays needed will depend upon the complexity of the condition. In some cases, this may be as little as 12, but in others, it can be as many as 50. However, somewhere between 20-30 is the average.
Each tray is custom-designed to fit the exact dimensions of a patient's teeth at a specific time in the treatment and is worn over the teeth, similar to a mouthguard.
Once in place, a single tray will move the teeth approximately 1/10mm taking somewhere between 1-2 weeks to achieve before it's discarded and replaced by the next one in the series. This continues throughout the duration of your treatment until the end result reveals a straighter, healthier smile.
Is Invisalign Right For You?
Invisalign is the world's leading clear aligner treatment designed to assist people with crooked or misaligned teeth. Its unique clear plastic trays are both inconspicuous and easily removable and are designed to be taken out when eating or drinking.
That said, as with many dental treatments recommended by Dr Al Obedy, Invisalign isn't a one-size-fits-all solution. If you have complex bite problems, for example, he may instead ask you to consider traditional fixed braces in order to deliver the best results. Either way, he will carefully assess your bite before determining the best course of action.
Also, patients should take into account that to achieve timely results, each Invisalign aligner needs to remain in position for approximately 22 hours a day. Any less than this may impact on your treatment. Therefore, patients need to be self-disciplined enough to be able to achieve that.
If you have any doubts or concerns or would like to know more about whether Invisalign is right for you, contact our dentist for a consultation at (03) 5250 2730.
What to expect during an Invisalign Treatment
If you are a good candidate for Invisalign in Geelong, your treatment may look something like this…
Pre-treatment
After careful analysis of your teeth and gums, Dr Al Obedy will collate all the information needed and send it off to Invisalign. They will then use it to create a digital simulation of your tooth movement and confirm how many custom aligners you need.
Review
Along with Dr Al Obedy, you can review your digital simulation to see just how your smile will look after treatment completion. Then with his guidance, any adjustments can be made to perfect your smile. Once everyone is happy, your Invisalign plan is approved and signed off.
Initiating treatment
After a period of time (usually 3-4 weeks) your clear aligners will be ready. He will call you back to our dental practice and show you how to place the first tray in position. Once done, the rest is left to you. Each aligner needs to be worn for approximately 2 weeks before it's discarded and replaced by the next one in the series.
Ongoing care
You can expect to return to our dental practice every 4-6 weeks until your treatment is complete. This is so that Dr Al Obedy can check on progress. In addition, it also gives you an opportunity to ask any questions you may have about the process thus far.
Invisalign Alternatives
In addition to Invisalign, we also provide SureSmile and ClearCorrect orthodontic aligners. Both work on the same principles as Invisalign but have different pricing points.
Invisalign Treatment in Geelong – Are You Ready to Straighten Your Smile?
If so, then talk to our team about Invisalign and other aligner treatment. As an alternative to metal braces, they provide excellent teeth straightening capability carried out in a discreet way. Call Gateway Plaza Dental & Implant Centre to book a consultation today.