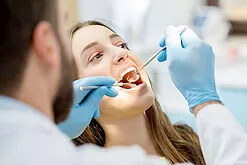 We understand everyone would like to minimise their time at the dentist, the best way to accomplish that is by coming in for regular dental check-ups. Regular check-ups prevent small issues from becoming big teeth and financial aches. ​
At Gateway Plaza Family Dental our routine dental check-ups involve a full oral examination, where we look at your teeth, gums, cheeks and tongue to determine your overall oral health, x-rays, to look at the in between surfaces of your teeth and the health of your bone and joints, a professional scale and clean, to remove all calculus from the teeth and gums and a fluoride polish. ​
Patients with private health cover can enjoy on the spot claiming for a NO GAP dental check ups. However if you do not have private health insurance, there's no need to worry, our check up deal is 50% and will only cost you $180.00.​
After every routine check-up all patients will be provided with a treatment plan for any future treatment requirements, such as composite (white) fillings and their price.